Like a lot of people, I am pretty much obsessed with the story of the
rescued women of Cleveland.
But I'm not quite ready to talk about the actual women yet, so (also like a lot of us) I'm focusing on Charles Ramsey, the hero who rescued them.
Well, first of all, though "Ramsey-as-rescuer" is the going narrative, let's remind ourselves that Amanda Berry did a lot of her own rescuing. Because we're not really ready to talk about the women (are we being good citizens and waiting for reliable information before discussing? Or are we recoiling in horror, unable to process what they have been through?) we are directing a great deal of admiration toward Ramsey. The women freak us out: Ramsey makes us happy. And he deserves the applause. He could have walked away, he could have called 9-1-1 only; but he physically stepped up to the plate and helped someone escape.
Here's the problem with the discussion. At least for me. As I was sharing the video of Ramsey and fist-pumping his existence with everyone else (not only is he a man-who-rescues-women — who doesn't love that? — but he's clever and funny as hell!), I felt this creeping sense of dread.
Because whenever we collectively get behind someone like Ramsey, it means we're supposed to sanction every aspect of their life.
And at some point we're going to learn that he did something bad — maybe he, oh I don't know, abused alcohol at some point; maybe he abandoned a child. Who knows what it will be. He's a human being, so he did something distasteful. When this finding surfaces, get ready to hear, "So what do you think of your hero now?" It will happen. And then we'll all feel like schmucks.
Is it even possible any more to have real-life heroes? Our classic heroes are so perfect — from Hercules to Jesus Christ to Ghandi, we know what a Hero™is supposed to look like. And the only way a real human can measure up to that is to remain mysterious: if we don't know much about someone, we can assign any qualities we like to him. We can do that with fictional characters (obviously) and people born sufficiently long ago that dirt digger-uppers can't get to them. But people born right now? Oh boy. If someone labels you a hero, get ready for the inevitable media shellacking. (See: Jason Russell of "Kony 2012" fame, who wilted so severely under the scrutiny that he ended up having a public meltdown and was hospitalized.) No wonder nobody wants to be labeled a hero.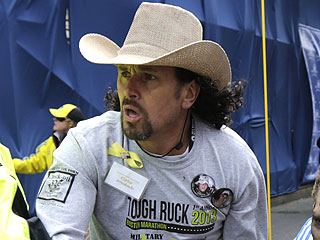 The Hero in A Cowboy Hat
And really, nobody does want that label. Isn't that interesting? Not 24 hours after the Ramsey video went viral, he was pleading with everyone not to call him a hero. Another recent high-profile rescuer, Carlos Arredondo (pictured above) was as anxious to brush off the label.

"A lot of people are very grateful for what I did," Arredondo said in an interview. "But I don't consider myself a hero. A lot of people can be considered heroes for what they did."
Some might view this as false self-deprecation, but I think it's an unwillingness to take on the heavy toll that accompanies the hero label. Nobody can afford to be a hero anymore.
Don't hold your breath, Bonnie