"Once I sat on the edge of a narrow plank bridge across the the Gombe stream as two adult male [chimps] pulled apart a small palm tree to eat the pith. Once finished, they crossed the bridge just behind me, and as they did so the biggest animal brushed against my back softly but deliberately, his very large scrotum swinging a foot from my face. The message I got was, 'I know I am a male like you, I could crush you if I wanted to, but with balls this size I don't need to worry about you.' I agreed with him." ~Malcolm Potts
What is the cause of war? Is it nature or nurture? As our country and its allies edge closer and closer to yet another armed conflict in the Middle East, this question becomes especially relevant. What good timing that I read a book earlier this month that attempts to answer that question—and to provide a way out. My pick* for August's book review is
Sex and War: How Biology Explains Warfare and Terrorism and Offers a Path to a Safer World.
Obstetrician Malcolm Potts and science writer Thomas Hayden have a definite point of view on the cause of war: blame the primate brain. Humans and chimps share an ancestor, and boy howdy, was that one
crabby
little ape. These two primates, unlike almost all other social animals, band together to attack and kill other members of their same species. Coalitional violence is behind everything from dawn raids on rival tribes, to soccer riots in stadiums, to international wars. Why do we do it? "Team aggression evolved because males who first manifested the behavior improved their chances of transmitting their genes to the next generation," the authors state simply. Group violence is part of our evolutionary heritage.
Before they started throwing chairs
The thing is, people don't want to hear that explanation. It sounds too defeatist, too deterministic: as a friend of mine said (paraphrased), "Well, if we evolved to be this way, we should just throw up our hands in defeat. Humans are a failed experiment." His resistance reflects what most of us were taught in high school and college: violence is
taught
, not innate. "The standard social science model, which dominates most of our discussions of war and peace, assumes that culture and the environment determine aggression and set the stage for conflict," Potts and Hayden write. "Margaret Mead's mistaken belief that a newborn infant is a blank slate waiting to be marked with culture's message has infected the Western mind—and a wide preference for this belief has sustained it for half a century. … In crude, shorthand form, this standard view suggests that if we stop giving little boys toy guns they will not grow up to be soldiers. It expresses a naïveté that has seen its hopes shattered time and time again." That naïveté extends to a rose-colored view of our ancestors as living in a peaceful Eden, ruined when we ate the apple of civilization and became big warring meany-heads. People as diverse as left-wing university professors, right-wing survivalists, and neo-Druids circling Stonehenge share a nostalgic longing for a life free of the supposedly ruinous effects of modern civilization.
Life sure was better back then
Potts and Hayden know they have to counter this ingrained viewpoint, so they heap mounds and mounds of data upon their hypothesis, as well as illustrating it with colorful (if
brutal
) anecdotes: our ancestors were not more peaceful, especially not when they lived in tribal societies. Many hunter-gatherer tribes, which we are trained to think of as harmonious and ecological, pillaged the environment and each other. An
article
in the Economist states, "From the !Kung in the Kalahari to the Inuit in the Arctic and the aborigines in Australia, two-thirds of modern hunter-gatherers are in a state of almost constant tribal warfare, and nearly 90% go to war at least once a year. War is a big word for dawn raids, skirmishes and lots of posturing, but death rates are high—usually around 25-30% of adult males die from homicide. The warfare death rate of 0.5% of the population per year that Lawrence Keeley of the University of Illinois calculates as typical of hunter-gatherer societies would equate to 2 billion people dying during the 20th century." There's solid evidence that ancient hunter-gatherers were not much gentler.
So are we screwed? Not at all. Potts and Hayden have a much better plan than that of nostalgic traditionalists, who seem to recommend we travel back in time to a past that is largely mythical. Instead, Potts and Hayden point to our advances: we are not killing off 25 to 30 percent of our adult male population anymore. (Unless you are a hunter-gatherer.) Almost ad nauseam the authors repeat this caveat:
biology is not destiny.
I believe them. I am a healthy female primate, and thanks to evolution I am primed to have at least 10 offspring. But
biology is not destiny,
and I only have two kids. I am able to control my biology, now more than ever. And so the primate impulse to aggression does not determine that impulse
must
be acted out. "We can't emphasize too strongly that while many of our behaviors have evolutionary roots, biology is not destiny," they write. "As humans, we have many ways—as individuals, as societies, and as a global community—to shape our actions and change outcomes. Biology merely provides the starting point and the raw materials for human society. Culture, community, and free will are what determines its ultimate shape."
Women belong in the house and the grave ~Afghan proverb.
We haven't entirely vanquished our chimpy selves; just turn on the news. But the data is clear: humans steadily have become less violent over the eons; we are doing something right. What is it? We need to know, so we can do more of it. Potts and Hayden have a fairly simple answer: empowering women. Specifically, they recommend giving women control over their wombs. There are many
(many)
more things that can be done, and they spell some out, but this one thing has and will continue to make an enormous difference. Not all humans are bellicose: it's primarily young men. When women have no control over how many children to have or when, populations tend to bubble and outstrip their resources. You end up with unemployable young men prowling the streets, vibrating with testosterone, angry at their idleness, with their worst chimp impulses at the ready. They are the rapists, the murderers, the suicide bombers, the problem. As the nonpartisan National Academies wrote in
Discouraging Terrorism: Some implications of 9/11:
"Many societies that foster terrorism are characterized by high population growth and large numbers of disadvantaged youth and by extreme poverty and inequality." There is plenty of evidence to support this. When women can control their reproduction, they generally choose to have fewer children and to have them later. This not only helps those societies become more peaceful and prosperous — it protects the rest of us from the worst impulses of the most pugnacious subset of society.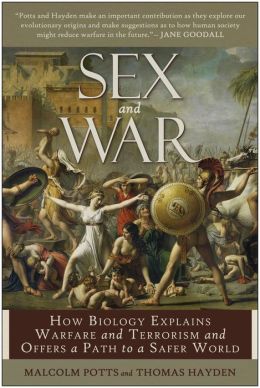 "If you want peace, understand war."



This book is long: sixteen hours of listening time, if you go the audiobook route. (The visual book is almost 50% notes, so the page count isn't as intimidating as it looks.) I can't possibly cover the scope in one terse review, so I'm hoping readers who have doubts and questions will ask them: I'm not Potts or Hayden but I can try to fill in the gaps left by this review. Even better—read the book. It's exhaustively researched and very convincing. I highly recommend it.
* I write for this blog and also for a shared one, Divine Secrets of the Writing Sisterhood. I did a book review for each.
Check out the other Cephalopod reviews here: