I came across an article today that spoke to my atoms and molecules, so I have to share it:

The Trauma of Being Alive
I don't really have much to add to it, so I'll just pull out some of my favorite bits:
Trauma is not just the result of major disasters. It does not happen to only some people. An undercurrent of trauma runs through ordinary life, shot through as it is with the poignancy of impermanence. I like to say that if we are not suffering from post-traumatic stress disorder, we are suffering from pre-traumatic stress disorder. There is no way to be alive without being conscious of the potential for disaster.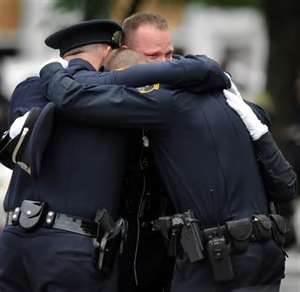 ... In resisting trauma and in defending ourselves from feeling its full impact, we deprive ourselves of its truth. ... There is a rush to normal in many of us that closes us off, not only to the depth of our own suffering but also, as a consequence, to the suffering of others.
... "They're shooting at our regiment now," a 60-year-old friend said the other day as he recounted the various illnesses of his closest acquaintances. "We're the ones coming over the hill." He was right, but the traumatic underpinnings of life are not specific to any generation. The first day of school and the first day in an assisted-living facility are remarkably similar. Separation and loss touch everyone.
... The willingness to face traumas — be they large, small, primitive or fresh — is the key to healing from them. They may never disappear in the way we think they should, but maybe they don't need to. Trauma is an ineradicable aspect of life. We are human as a result of it, not in spite of it.