My cousin and his wife recommended a shiitake hot-and-sour soup recipe that sounded so delicious I immediately went out, bought the ingredients, and made it. It was just as lovely as I hoped, and I've made it a few more times since. As good as it was, I believe I've come up with an even better version.
Just be warned: this is a serious sinus-cleanser. Much better than Sudafed (and definitely yummier). Little kids might prefer the jalapeño be scaled back, but my teens scarfed it up with
extra
zip. Have a box of tissues on hand.
Ingredients
1 tbsp avocado or coconut oil (or any neutral oil)
1 jalapeño, seeded and finely diced
2 tbsp grated ginger (I use jarred)
1 tbsp minced garlic
4 scallions, sliced
2 c. shredded carrots
1 lb shiitake mushrooms, sliced
2 oz. dried shiitakes, reconstituted in 3/4 c. boiling water
2 1/2 quarts chicken or veg stock
2 tbsp tamari or soy sauce
Juice of 1 lemon (or more, to taste)
1 block firm tofu, cubed
8 oz. shirataki noodles, rinsed well*

In a Dutch oven over medium-high heat, add oil and swirl to coat the bottom. Add jalapeño, ginger, garlic, and scallions. Sauté briefly, until aromatic. Add the carrots and shiitakes (with mushroom water from the soaking) and sauté a few more minutes, till they are soft. Add stock and tamari sauce, bring to a simmer and cook uncovered until about 20% of the liquid evaporates. Add lemon juice, tofu, and noodles and cook until heated through. Taste and add more lemon juice, tamari, and jalapeño as needed. Serve with extra scallions as garnish.
*Shirataki noodles are a traditional Japanese noodle that happens to be low-carb. They have an odd smell when you open the package, but it rinses off. I find people like them fine in Asian cooking, but not so much in Italian, so pair them with their native cuisine. I've been able to find them at almost all our local grocery stores, and have seen them at Safeways in other states. You can also order them from Amazon and other online vendors. They're usually in a refrigerated section of the grocery store, often with the tofu and tempeh, but they withstand shipping just fine. (I ordered a big shipment of them on Groupon recently, and used the angel-hair variety in today's soup.) To make them easier to serve and eat, I break them up: I just take a pair of scissors and snip the knot of rinsed noodles a few times. Obviously, ramen or soba noodles would also work here.
If you really dislike tofu you can substitute chicken, but I'd encourage people to give the original recipe a try first. The shiitakes have a lovely, velvety texture that's really complimented by the tofu. Which isn't to say you shouldn't fiddle with later batches: I added bok choy to one batch of soup, and that worked out nicely. I added snow peas to another batch, and I didn't like that so much. I used only fresh shiitake mushrooms at first but added dried because they have a stronger umami flavor. If you're a miso fan, add a dallop of that to the soup, too.
The brand I find at most supermarkets
The ginger brand I use. I get it at Whole Foods.



The tamari brand I like.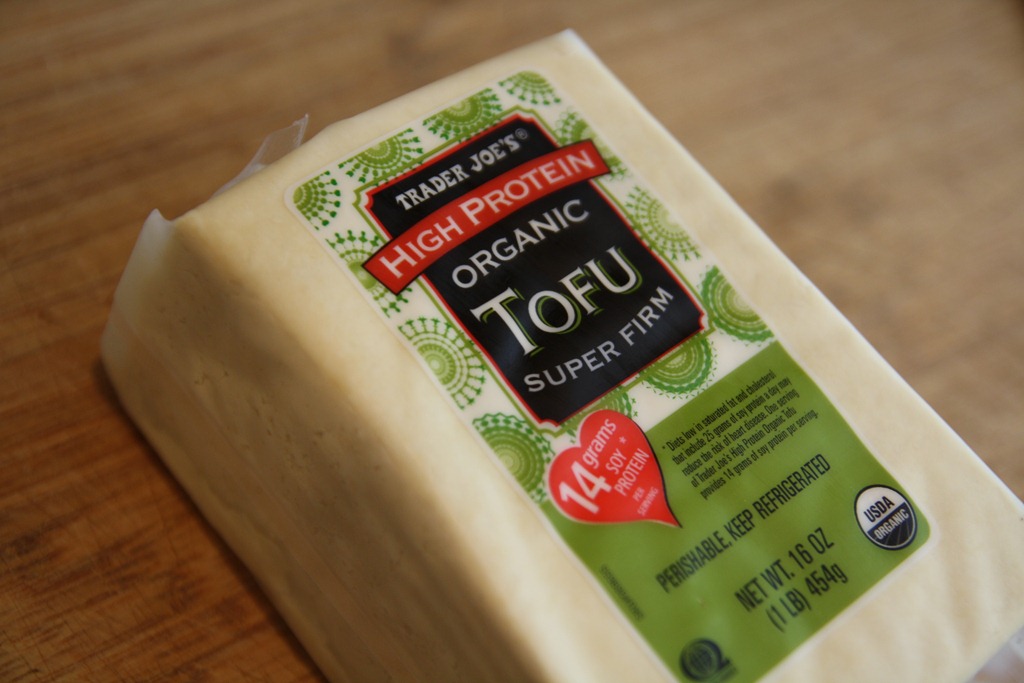 My favorite tofu