In a recent interview, acclaimed author George Saunders was asked where he gets his ideas. I know, I know: it there any more tiresome question to ask an author? But George Saunders has exceptionally weird ideas. Like his story "The Semplica Girls Diary," from his most recent collection. It's set in a world just like ours except the hallmark of affluence is not a flashy car or an in-ground pool but girls. Human girls, from third-world countries, hung up as lawn ornaments. Suspended in a row, like washing on a clothesline, by a filament run through their skulls. (It doesn't hurt!) Yep: Saunders is weird.
Anyway, his answer to the question is that as a child, "I read all kinds of junk." Pulp fiction, the worst of the worst, nothing literary. Like his generation's version of Captain Underpants. (I wish he'd given specifics, but he spared those authors.) "It was just available," he said. "So I read it." He read whatever he happened across, whether it was sci-fi, fantasy, comics, or mysteries. It all fed him, and it all comes out in his genre-blending (and bending) work, which is appropriately unclassifiable.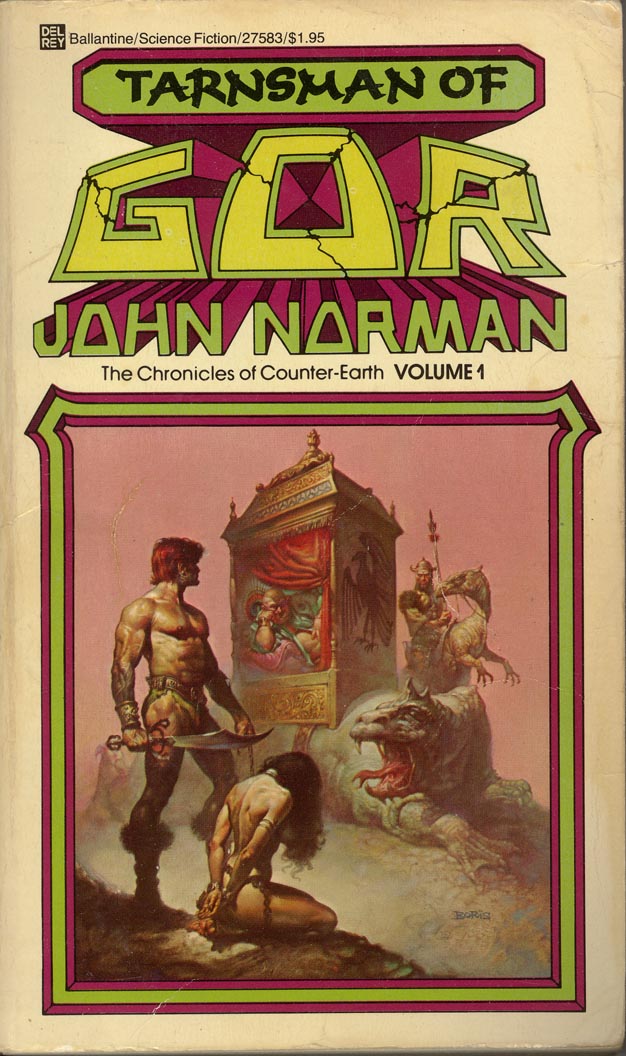 I tend to be a bit snobbish about what I feed myself now, bookwise; but like Saunders, as a kid I consumed pretty much everything. Including things I definitely shouldn't have read, like Red Dragon. I read The Hardy Boys, but preferred the Three Investigators — edgier. Possibly my favorite series was
John Norman's "Chronicles of Counter-Earth," which was truly horrible dreck, but which I totally gobbled up when I was in 7th grade. It was sci-fi, it was fantasy, it was chock-full of sex. I would be appalled if my middle-schooler read these books — not only is the writing structurally bad, but it's wildly misogynistic. Even at the age of 12, I recognized there was something wrong with the "women want to be enslaved" motto of the stories. (I told my dad about it one night, asking him, "why do people read this crap?" Subtext: "Why am I reading this crap?" His response: "Fantasy is not reality. That's why people love it.") And still, as pulpy and politically-incorrect as it was, I would not undo my experience of reading this series. Some elements of these stories have stuck with me for years, like the Yellow Pool of Turin, a man-eating monster made of fluid. The hero, pitched into the pool, manages to turn the liquid menace against its owner. It was a very exciting passage.
Most writers I talk to share similar experiences of B-grade books they loved, especially in early adolescence. Clan of the Cave Bear and Flowers in the Attic tend to be cited often. Perhaps the recipe for eventual-writerdom is to submerge the tender tween in purple prose and inappropriate content? Also key: a library card and zero adult supervision. Potentially helpful: a lack of friends and too much free time.
What was the schlock you loved?