We waffled about last night, looking for something to entertain us, and finally decided to binge-watch
Star Trek: The Original Series.
This is pretty much entirely thanks to
Suze
, of course. I had really given up on TOS after
"Space Seed"
which both my daughter and I found utterly unwatchable. (The spouse can't
not
love the miniskirts: he tried to be all feminist and outraged but he just couldn't do it. He loves, loves, loves those miniskirts.)
At any rate, Suze's enthusiasm made me want to give it another go, plus also my Mini-Me is such a Trekkie I felt bad not giving her this experience. The actual original experience. And so last night we absorbed
The Trouble with Tribbles, the Arena
(one of my husband's favorites from childhood), and
the City on the Edge of Forever.
I can't help it, I was Gorn this way
We loved them. In fact, we finished up with a Deep Space Nine episode that we'd fondly remembered, and I found I actually preferred the TOS episodes, all things told.
Tribbles
is just such a classic: I submit that you're not really a participant in western (pop) culture until you've seen that episode. I'd completely forgotten that Klingons hadn't yet acquired their wrinkly foreheads or their bellicose honor culture. They had sparkly trousers and natty little Van Dykes. What the hell happened to those people? (Worf: "We do not like to discuss it.") In fact, nobody had even settled on one pronunciation of "Klingon." (Kirk pronounces is "KLING'n.")
The Arena
is a certain kind of episode repeated often throughout the Star Trek canon: an überintelligent alien race is disgusted with humanity's warlike nature and isolates a few individuals somewhere in a fight to the death with another, similarly brutal species. The other warlike critter in this case is a delightfully campy lizard-creature, sporting a costume that looks hastily assembled by someone's mum for the 5th-grade play. He lumbers about so slowly one wonders why Kirk doesn't take naps between battles. But it's too easy to pick apart these old episodes for lack of sophistication: the show, as always, is interested in some sort of moral ambiguity. Kirk is certain at the beginning that the Gorn are totally, totally evil, and he's more than ready to destroy them without much investigation — and certainly without any attempt at diplomacy. It turns out the Gorn were trying to protect their own territory, which the Enterprise had accidentally invaded. See? If only we would all
talk
to each other, we wouldn't have to
fight
so much.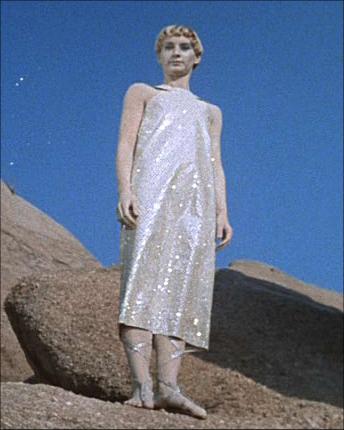 "By sparing your helpless enemy who surely would have destroyed you, you demonstrated the
advanced trait of mercy. Something we hardly expected."- Metron (pictured), to Kirk
(I did note that the Metron, which supposedly had advanced beyond violence, displayed a remarkable affinity for violence when it trapped two angry creatures in an arena and ordered them to fight to the death. Some later iterations of this theme tried to wiggle out of this irony by having the überintelligent alien race be amoral, rather than supermoral.)
The City on the Edge of Forever
is another enduring classic in the Star Trek world: It was written by Harlan Ellison and was awarded the 1968
Hugo Award
for Best Dramatic Presentation. But I'd never seen it before. So I was quite shocked when Joan Collins suddenly appeared on screen. Either she was not yet famous or the series scored big time when they snagged her.
It was fun watching the normally affable Bones lose his mind for a bit after he accidentally injects himself with a drug. Those who are long-running fans of the show will immediately think of all the other episodes that allow main characters to flip their identities briefly: it's one of the most common themes throughout the series. (DS9's "Crossover" episode has a whole alternate universe with flipped characters.) But the real story is about time-travel, and the costs of messing with the timeline. When you throw a love story into the mix, dilemmas abound.
What I especially enjoyed last night, what I had forgotten from watching this series as a kid and what maybe was lacking from
Space Seed,
was the humor.
The whole crew has great chemistry, but Spock and Kirk truly have something special going on. (And I'm not talking about
slashfic,
which I thought was funny for about two seconds when I learned about it, before realizing it's a) entertaining mostly to 15-year-old boys who can be entertained for hours by trading sexual insults back and forth and b) just missing the point.) The wordplay between Spock and Kirk is genuinely funny, and when it isn't, a single lift of Spock's amazing eyebrow makes it funny.
So we're in. Tonight we're planning to watch another two or three TOS episodes, mostly focusing on what others recommend as "essentials." So Suze has given us some of her recommendations. What are yours?