It looks like June's shaping up to be Star Trek month. Last night we watched
"Errand of Mercy"
as
Laoch's
suggestion, and thoroughly enjoyed it. I'm so relieved that "Space Seed" seems to have been more of an aberration than the rule: all the other TOS episodes we've watched have been enjoyable. That, or we're just in a better place to enjoy the campy nature of the show.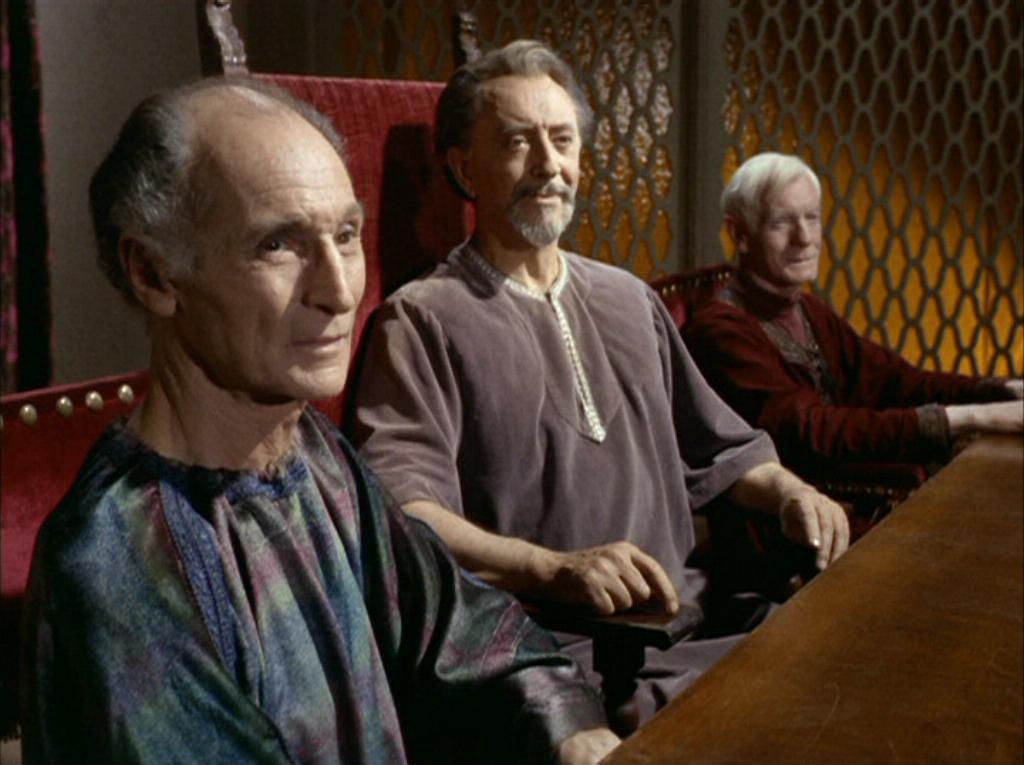 The Organians: pacifists. Also, all male. Because that combination seems likely.
So in Errand, as with The Arena, we have another set of Uberintelligent Morally-Superior Beings yelling at humans for being too bellicose. (Although this might really be Kirk's issue, rather than all of humanity's: the dude has a serious impulse-control problem — especially for a Starfleet Captain.) There's a triangle between aforementioned superior beings, an Angry Alien race, and humans. Last time the Angry Aliens of the trifecta were the Gorn, this time they are the Klingons—who make their first appearance here, in all their sparkly-trousers and Fu-Manchu-beard splendor.
In the days when "alien costuming" meant "shoe polish and weird facial hair."
The morally-superior beings here are the Organians, who are pacifists to the Nth degree. They make my Quaker ancestors look argumentative. Starfleet and the Klingons are battling over Organia, which is in a strategic location. The Organian leader, Ayelborne, keeps informing Kirk and Spock that they won't tolerate fighting on their planet, and furthermore the planet is in no danger from the invading Klingon forces, and further-furthermore, go to your rooms, boys; I don't want to hear who started it!
As Ayelborne repeatedly assured Kirk their planet was in no danger, I wondered why Kirk didn't investigate further: he just assumes Ayelborne is too wussy to fight. He and Commander Kor (the Klingon leader) are so disgusted with the Organian's wussiness, in fact, that they kind of bond over it.
OK, so Kor and Kirk are too fighty to stop and think for a moment that perhaps the Organians can get away with being peaceful because they have some sort of pacifist ace up their sleeve, but Spock should have been curious. Really, his catchword is "Curious!" Why didn't he just ask Ayelborne why there was no danger? For that matter, why didn't Ayelborne just tell them what was going on? Oh, right! Because then there'd be no plot.
I knew the Organians couldn't simply be regular pacifists. Because regular pacifists tend to get trampled. It is my observation that you can't truly speak softly without carrying that big stick. What I expected was that the Organians would have something akin to nuclear weapons: some very big stick that could scare off both the Klingons and the humans. What it ended up being, though, was cleverer than that. While I thought the too-hot-to-handle twist was a good trick, and emotionally satisfying, it still begs the question:
What if the Organians were what they claimed to be: essentially, the Space Amish? What if they were regular old simple farmers who just wanted to stay out of the war, and refused to fight? The resolution of the story ducks this question. Can pacifists ever win out over determined warriors?