Tuesdays and Thursdays have become my favorite days of the week, because those are the nights I settle in with my kids to watch
Freaks & Geeks
. The lovely and wise
Suze
strongly recommended I check this show out and I know by now to listen to her recommendations. Freaks & Geeks, in case you don't know, is about two siblings dealing with life in an American high school circa 1980. It was filmed in 1999 and 2000, and canceled after only one season. It's since become a cult hit—we seem to be drawn to this formula. Excellent show gets canceled early, gathers huge fan base, and eventually we catch up with it on Netflix. We did this with
Firefly
,
Pushing Daisies
, and
Better off Ted
, too. And if you haven't seen any of these shows? You are in for a serious treat.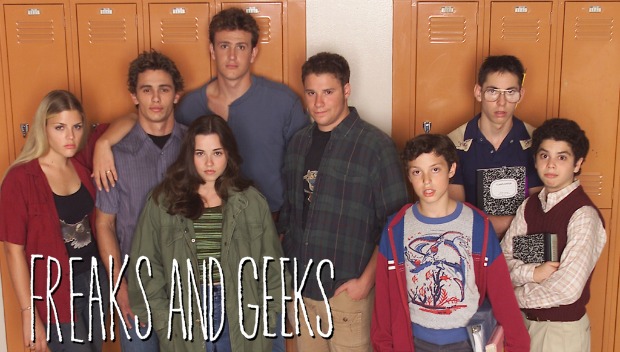 Judd Apatow's work: you may recognize some faces
Freaks & Geeks was the perfect show to watch with my kids: It's got the 80s nostalgia thing going on for me, especially with the music: Rush, the Who, the Grateful Dead, Styx. But someone put an enormous amount of effort into the set, too, which has all manner of early-80s paraphernalia, from Atari game consoles to the type of corded phones people used to the cars they drove and the clothes they wore. For my kids, the problems the Weir siblings faced were amazingly relevant to their own problems. My kids are roughly the same age as Lindsey and Sam, so this was the perfect time to watch the show. With every episode, we must have paused the show a dozen times to talk about something similar that happened to them ... or to me, back in my day: the generation gap magically disappeared. It also brought up subjects like drugs and awkward first kisses, which led to some discussions we'd probably never have had otherwise.
I am using the past tense because we finally finished the show last night. This is making me both happy and sad, but I'll focus on the happy. It's the same satisfaction you get when you finish a good book, only this was a group activity, so it was even more satisfying to finish. I have no doubt we'll go back and re-watch favorite episodes many times. Of the 18 episodes, our favorites tend to be collected near the end, since the show gets off to a slightly clunky start. Within five episodes or so, it really finds its groove. "The Diary" and "Dead Dogs and Gym Teachers" may be my favorites.
Have you watched the show? What did you think? Are there other hidden-gem shows you'd recommend? And what is making
you
happy this week?